Ed Pinto—director of the American Enterprise Institute's Housing Center and one of the nation's top experts on residential real estate— has created and published a chart highlighting the radical changes the national housing market has been experiencing over the past few months, ending the period of record growth seen during the COVID pandemic-fueled boom in real estate.

This chart shows a list of the most impacted major metros across the country, with California making a strong presence at the top of the list. Texas's largest metros, Houston, Dallas, Austin, and San Antonio also made the list. Houston – although typically resilient during periods of economic hardship, has made the list near the bottom, with only a -0.5% loss in home prices seen since the peak pricing period experienced during the summer of 2022: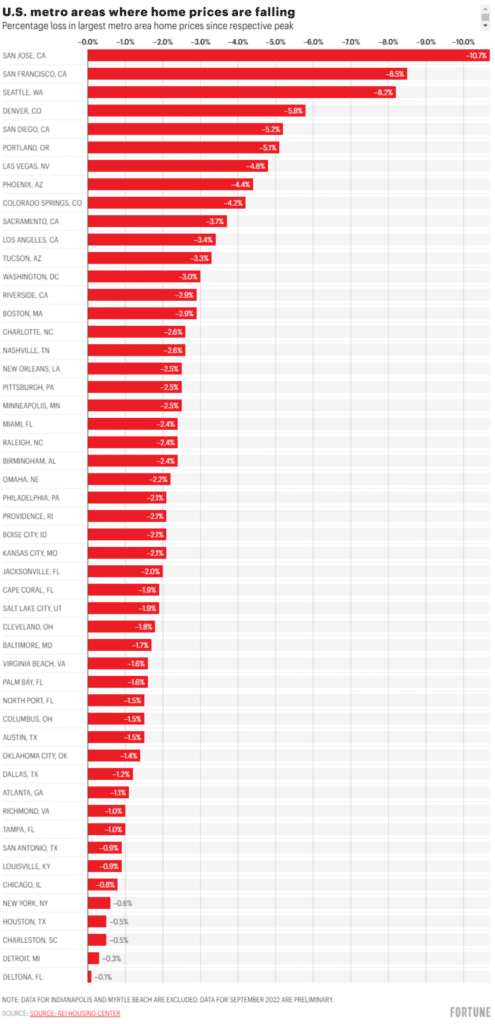 Is The Woodlands area affected?
As buyers and sellers adapt to the end of an era of historically low interest rates and tight housing supply figures, they are forced to face an uncertain outlook. Persistent inflation has taken its toll on all of our pocketbooks and is affecting the buying power for housing budgets. With the new climate cooling off, how are our own local residents faring in The Woodlands?
In an effort to shed some light on our local area's housing market, we've run a statistical analysis of the sales data available from the HAR MLS for all properties within The Woodlands area that shows evidence that our own local neighborhoods may not be immune to the economic forces at play: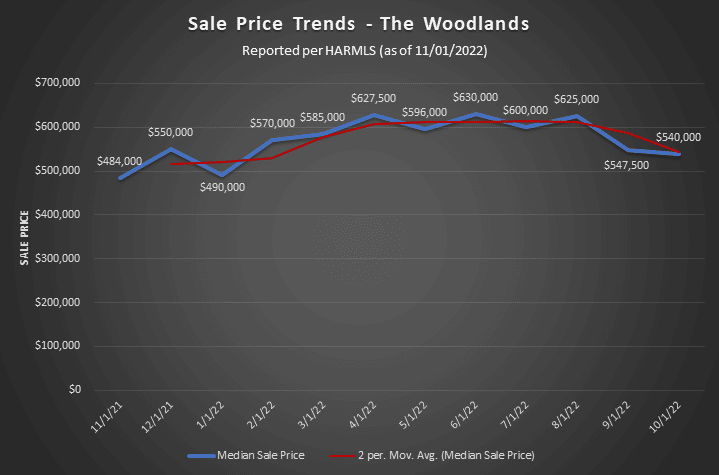 In the above graph, the overall price trends in The Woodlands peaked during the summer of 2022. However, despite the recent headlines with rising interest rates, historically it is commonplace for the market to cool during the Fall and Winter as school runs back from summer break and we approach the holiday season. Perhaps the traditional annual market cycle is all we are currently experiencing?
With the Bureau of Labor and Statistic's surprisingly positive CPI Report recently published, all eyes are on the Federal Reserve's next moves as they decide next steps on how to continue their efforts to tamper inflation. Perhaps the worst is over, and the markets are adapting to the "new post-pandemic normal" environment, leaving room for the housing markets to recover in 2023.
The AEI article with data from their Housing Center can be found here.