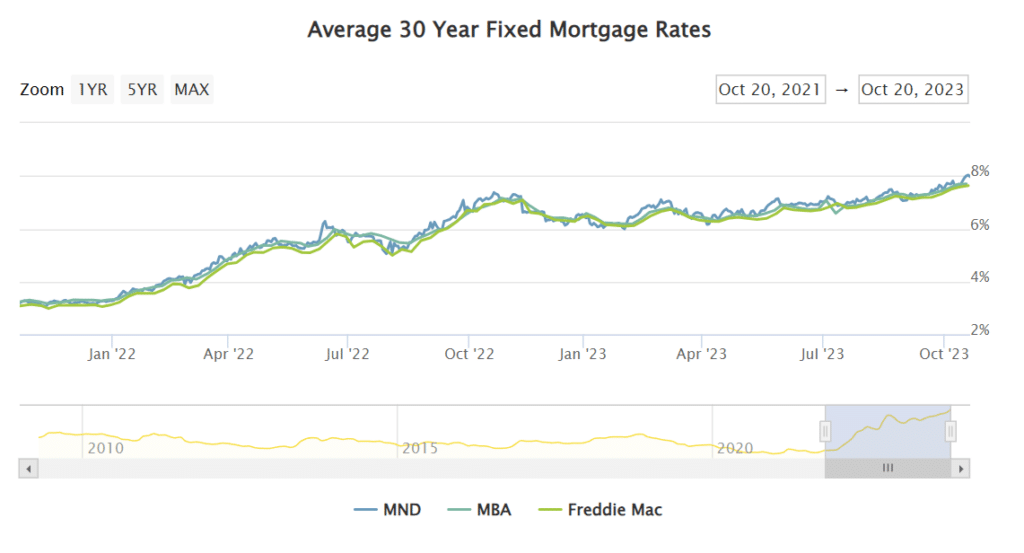 Source: Mortgage News Daily – Mortgage And Real Estate News
The Mechanics of Interest Rates and Buying Power
The relationship between mortgage interest rates and property values is a significant consideration for homeowners, potential buyers, and real estate professionals. As the interest rates trend upwards, this dynamic has significant implications for the real estate market, particularly in sought-after areas like The Woodlands.
At the core of the matter is the concept of buying power. As interest rates rise, the amount a person can borrow for the same monthly payment decreases. For instance, if a buyer could afford a $400,000 house with a 3% interest rate, that same buyer might only afford a $350,000 house with a 4% interest rate, assuming all other factors remain the same.
As of October, 2023, buyers are now facing 8% interest rates. Since a significant portion of people buying homes need to obtain a mortgage to make homeownership affordable, this can have a dramatic impact on home prices in many real estate markets.
The Effect on The Woodlands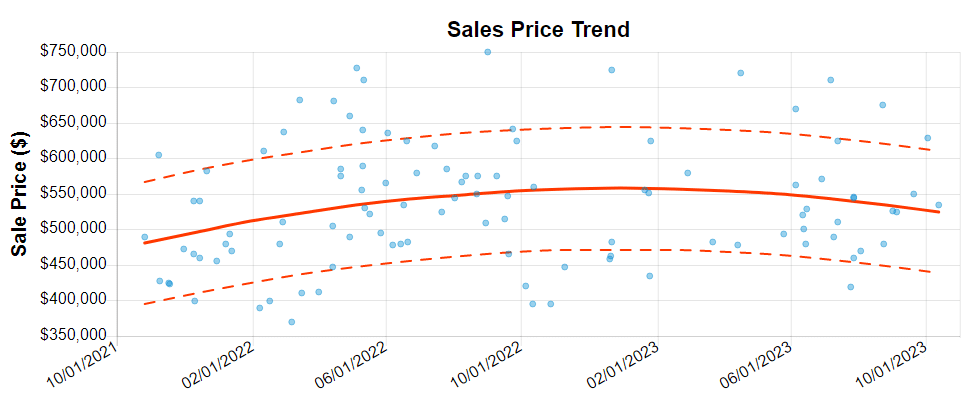 Located just north of Houston, The Woodlands is a prime example of a region that could feel the effects of climbing interest rates. Known for its master-planned communities, green spaces, and upscale amenities, the demand for homes in The Woodlands has historically been robust.
However, as you can see from the above chart, there has been a recent softness in the market evidenced by fewer sales at lower prices. The data we used for this chart represents a homogenous set of typically sized 2500-3500 sq ft homes in Cochran's Crossing, in an effort to analyze the market price trends of this home type. As interest rates have risen over the last 12 months, we see a corresponding reaction in the marketplace in the form of fewer sales and lower prices. This is a result of a combination of factors:
Tightened Budgets: As rates increase, potential homeowners in The Woodlands may find their budgets tightened. A buyer who might have looked at properties in the $600,000 range might now be looking in the $500,000 range due to increased costs to obtain a mortgage.
Supply and Demand: If a significant number of buyers are priced out of their desired market segment due to rising rates, this could lead to decreased demand at certain price points. Over time, if demand decreases and supply remains constant or increases, property values stagnate, and sometimes decrease.
Refinancing Challenges: Homeowners in The Woodlands looking to refinance as an effort to liquidate some home equity might find it less advantageous to do so. This could lead to more people selling their homes to access this liquidity, potentially increasing overall supply in the market and putting downward pressure on prices, exacerbating the impacts of the already decreased demand from buyers that are priced out of the market.
Considerations for Sellers
Sellers in The Woodlands may need to recalibrate their expectations. If potential buyers are facing tightened budgets, sellers might need to be more flexible on price or be prepared for their property to be on the market for a more extended period.
Considerations for Buyers
For buyers, rising interest rates mean they must be more diligent in their home search, perhaps looking at slightly lower price points or considering other areas close to The Woodlands that might offer more value for money. It's also crucial for buyers to lock in interest rates at opportune moments, and shop around among local lenders and mortgage companies to find the best rate and terms for your situation.
The Impact
Rising interest rates invariably introduce a degree of uncertainty to the real estate market. For a market as dynamic as The Woodlands, TX, the impact can be multifaceted, affecting both buyers and sellers. While it's challenging to predict the long-term effects, understanding the relationship between interest rates and buying power is crucial for making informed real estate decisions.